The surname Birckhead comes from those having lived near a birch covered headland . The surname Birckhead is derived from the Old English word bierce, meaning birch, and heafod, meaning head.
The Birckheads were Friends, and came from Bristol, England. Christopher and Abraham Birkehead 6 Jan 1663-4 were commissioned as Indian traders, and entered into recognizance to the Government for L1000 sterling (Arch. Md., III., 498). Birckhead's Chance, a tract of 750 acres, by the great branch of the Patuxent river, Anne Arundel Co., was granted 10 June 1667 to Abraham Birckhead, who had grants also of Birckhead's Addition, Birckhead's Mill, Birckhead's Right, and other properties.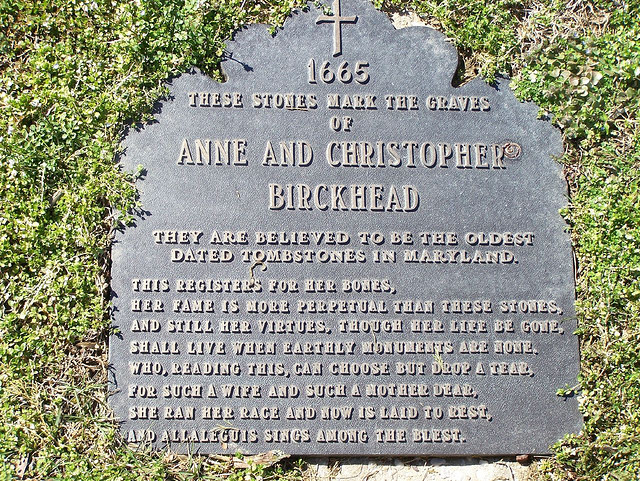 Thirteen generations, from John WIlliam Birckhead to Christopher who married Anne.
Christopher Birckhead (aka Burcotte in England)
Birth:
1585
Bristol
Gloucestershire, England
Death:
Sep. 16, 1669
Bristol
Gloucestershire, England


Christopher was married to Elizabeth Anne Cornish on 24/Feb/1613 at St. Stephen's Parish, Bristol, England. Their children were: Ann, Maria, Alice, Christopher, Richard, Sarah, Elizabeth, Susanna, Giles, Abraham and Margaret.

Although Christopher was buried at sea, he has a memorial headstone at the St. James Parrish, Herring Creek, in Anne Arundel County, MD beside his wife,who had died of a broken heart shortly after his death. His body was buried in the Redcliffe Caves in Bristol, England. Engraved on the cave wall, "Here lies the body of Christopher, a mariner, son of Christopher Burcott of this area."

sources:

Bryan and Martin Website/ http://www.bryan-martin.net/genealogy/getperson.php?personID=I20244&tree=gam

Allen Family History/ http://allenfamilyhistory.org/individual.php?pid=I4790&ged=Allen,%20Robert.ged

William T Wallace Website/ http://familytreemaker.genealogy.com/users/s/c/h/W-Schlueter/WEBSITE-0001/UHP-1247.html